If you have questions about what your children or employees doing on phones owned by you, then Mobistealth BlackBerry Spy Software will get you the answers you want and deserve.
Mobistealth BlackBerry Spy includes advanced surveillance features that can monitor all cell phone activities. In just a few minutes, you can install Mobistealth BlackBerry Spy Software and it will begin relaying information to your user account, including:.
Don't worry: Our BlackBerry Spy is completely undetectable software, so your kids can't tamper it. You can access all of the information and activate specific surveillance features from your Mobistealth user account. Once installed, Mobistealth includes many advanced surveillance features that monitor all essential BlackBerry activities. From your Mobistealth user account, you can use advanced surveilance features to track BlackBerry location and monitor all communications so you have the information you need to keep your children safe. Billions of dollars are lost each year due to personal use of smart phones and computers on company time.
Mobistealth helps eliminate this wasted time by monitoring all cell phone communications and sending that data to the user account for analysis. Our advanced surveillance features also provide Real Time and Historical Location Tracking so you can constantly track off-site employees. By eliminating personal BlackBerry use on company time and tracking off-site employee movement, Mobistealth BlackBerry Spy App ultimately boosts employee performance and overall productivity.
Whether you are a parent or business owner, Mobistealth BlackBerry Spy helps protect what you love and provides peace of mind. Mobistealth Blackberry spyware enables you to remotely view complete location history of kids and employees. View all IM's sent and received on a monitored cell phone using this advanced BlackBerry Spy surveillance feature.
Mobistealth BlackBerry Spy Software provides complete Call Details for all calls made on monitored cell phone and sends data to your user account. This advanced surveillance features can be used to view all emails on a monitored BlackBerry from your Mobistealth user account.
Mobistealth BlackBerry Spyware records all incoming and outgoing texts so you can view them at your leisure from your user account. After selecting the pricing plan that best suits your needs and making payment, your order will be processed immediately and you will be emailed your account credentials. Log into your Mobistealth web account to view all the activities in an easy to use online interface.
Toggle navigation. Sign Up Now. After doing a lot of research and looking at more than a dozen options, we decided to secretly install Mobistealth spy software on their phones. After long research and trying many other spyphone I found that Spyera is the only company can capture BBM even when user change settings with Save History Never.
I appreciate it. I installed on a Blackberry My web account load with tons of bbm messages, sms and many other logs in a few hours.
Action India Home Products
I would like to thank to Spyera for this great software. Abdul H. I saw Spyera on a news channel a while ago. I never imagine that one day I will need Spyera.
StealthGenie Features Review - The Best Cell Phone Spy Software?
My Grandpa have difficulties to find home. He gets lost frequency and all family members worried about this.
We decided to purchase the cheapest Android phone. Then we installed Spyera on that phone to track my Grandpa.
I renewed my annual subscription 3 times and I am very happy with Spyera. Thanks a lot. Barbara, London, UK. I like the way Spyera get update to the latest version. Remote update is great. With Spy phone the most difficult part is accessing the target phone. With remote update I accessed target device one time a year ago and since then I am using remote update to get latest features.
rendrofoundbelcu.gq
spy software « Contact Images
The only problem I have with spyera is sometimes support team response next day or even sometimes two days later. Support need some improvement. The rest of service is perfect. Tarik Emre Y. Uploading logs are totally hidden and can be done by any available connection method - Wi-fi, or Network Data. Control Panel is easy to use and it provides all the captured data in a single report.
You can browse categorically in captured data. You can mark as important, print, or export download. You can see target device current GPS location remotely or historically movements on a map.
Bb application for spying call
Hidden Remote Control Change Application Settings Remotely After installation spy software you simply log in to your web account and you can then use the specific control center. You can set up the software remotely on your web account. Enable or disable any feature, temporary stop spying, or you can uninstall spy software remotely. Versatile compatibility allows you to move your Spy App between any supported devices and platforms. If for any reason you are unhappy with our product within 10 days of purchase, we will refund your money in full. We do not hold any credit information at all. Yes, it is a One-time charge for the license length you choose.
Automatic subscription is optional during checkout. Please click the subscription length you wish to buy. On the next page, you will see all currencies. Yes, If for any reason you are unhappy with our product within 10 days of purchase, we will refund your money in full. If you did not enable Auto Renewal option during check-out, you need to place a renewal order. Accounts renewed within 3 days from the expiration date, does not need re-installation.
Buy Now Available for immediate download. Blackberry Spy App is completely undetectable. And even more spying features.
Smartphone Interface
See Address Book Get entire address book with all names, phone numbers, emails etc. See Call History View call history and get the name of the contact from the address book. Sim Notification Get a notification when the user changes the sim card. Platform Change You can move your software between different platforms.
Check Battery Levels Check battery levels remotely from your web account. Call Notification Get notified when a number you specify calls or is called. Web Based Control and Monitoring. There are calls from unusual or withheld numbers? Flag data for convenient analysis. Search for reports or create downloadable reports.
Bb spy software
Bb spy software
Bb spy software
Bb spy software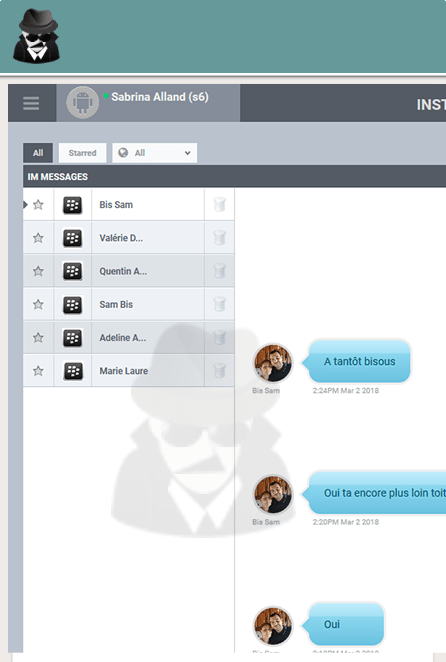 Bb spy software
Bb spy software
Bb spy software
---
Copyright 2019 - All Right Reserved
---